Iowa's recruiting momentum is surging. Let's discuss why with assistant coach Jay Niemann
---
The last month has been busy for the Iowa football coaching staff.
More than a dozen summer enrollees moved onto campus and got acclimated. Summer conditioning officially began for the 2022 team. Oh and Hawkeye football recruiting? It's got fans buzzing.
Jay Niemann has been at the center of it all as Iowa's assistant defensive line coach and defensive recruiting coordinator. A busy June has made way for a short vacation period for the Iowa staff and a break in recruiting. There's a recruiting dead period in place from June 27-July 24, meaning that coaches may not have any in-person contact with recruits and their parents. They are permitted to talk via phone, email and social media.
Since June 26, Iowa's reeled in three commitments: five-star offensive lineman Kadyn Proctor, four-star offensive lineman Trevor Lauck and three-star tight end Zach Ortweth. During June and July, Iowa added a total of six commitments to their 2023 class that is currently ranked No. 17 nationally by 247Sports.
More: Iowa football over Alabama?!?! Examining impact of Kadyn Proctor's commitment — on and off field
Niemann can't publicly speak on players who aren't officially signed to the university but took some time to reflect on their recent momentum in an interview with Hawk Central.
That momentum is particularly strong in-state. Here's a look at a few highlights across several different classes:
2021: Iowa signed nine of the top 15 prospects in-state
2022: Iowa signed the only two in-state All-Americans: safety Xavier Nwankpa and defensive lineman Aaron Graves
2023: Seven of Iowa's 15 current commits are in-state
2024: Four of the five highest ranked players in Iowa are already committed to the Hawkeyes
"There's a lot of factors that come into play when you talk about what makes kids decide to come here," Niemann said. "Coach (Kirk) Ferentz — obviously his tenure, his success here and the staff's longevity. There's a host of reasons. I think we do a real good job connecting with the high school coaches in the state, getting out and about when we can in contact periods to get into schools and into homes and then connect with people."
More: Kadyn Proctor's Iowa football commitment generates plenty of buzz: 'Something special brewing in Iowa City'
Niemann spoke on several recruiting topics during his interview with Hawk Central, here are four key topics:
Examining on-campus recruiting efforts
Over time, summer's become an increasingly busy time in recruiting. A recent trend is prospects taking their official visits during this summer months instead of during the football season. Niemann pointed to several reasons why: More attention from coaches when they're not busy with game prep, a chance to maximize their time in Iowa City without several hours devoted to a game and the desire to end their recruitment before their senior seasons.
Those factors culminate in priority prospects visiting in droves for consecutive weekends. The most notable was their June 24 recruiting weekend that saw 22 official visitors including Proctor, Lauck, Ortweth and more.
How does a staff spread themselves among that many players and their families?
"It was a huge undertaking," Niemann said. "It started out about mid afternoon on Friday and wound up somewhere around noon or so on Sunday. So we had those families with us for a pretty good chunk of time but it was all very well organized. And went very, very efficiently. It gave us a great opportunity to connect with a lot of the families and things and more of a social setting."
Unlike a typical one-day unofficial visit, prospects receive the full scope of what Iowa has to offer on a multi-day official visit. These visits include multiple meals with the coaches, time with current players, meetings with athletics and educational support staff and tours.
"It takes a village to get it accomplished," Niemann said. "There's no one person myself or anyone else who can take credit for any one of these guys saying yes to the Hawkeyes. But I think as a whole staff we do a good job."
Re-acclimation of summer camps was vital
Another layer of summer recruiting is the re-introduction of summer camps. Halted by COIVD in 2020 and 2021, camps provide opportunities for prospects to workout and interact in a practice environment with coaches recruiting them. Camp itineraries include getting official measurements, athletic testing and one-on-one (sometimes padded) competition against fellow prospects.
Camps at Iowa have been fundamental in building past classes. It's been refreshing for Niemann and the other coaches to have it back after a long absence.
"It's been huge for us," Niemann said. "I don't know how other programs operate exactly but from the standpoint of the emphasis we put on in-state recruiting, the emphasis we put on live evaluations and in-person evaluations, the camps are just critically important."
It allows for prospects to prove themselves, and perhaps earn a scholarship offer. That's been the case in two recent Iowa commitments: defensive lineman David Caulker and offensive lineman Cannon Leonard, who both received offers following strong performances and committed very soon after.
Hawk Central: Podcast: Kadyn Proctor joins the Hawkeyes; UCLA, USC joining the Big Ten?
In addition to scholarships, camps are when a large bulk of preferred walk-on opportunities are given. These sessions give coaches a glimpse of how much certain players have progressed since the end of the previous season and helps shape who they'll be watching for in the fall.
Iowa football alums are lending a helping hand too
There were a few special guest visitors during Iowa's star-studded June 24 weekend: recently drafted defensive back Dane Belton (New York Giants) and NFL All-Pro offensive lineman Tristan Wirfs (Tampa Bay Buccaneers). It's never a bad thing when recent players (many of whom recruits look up to) come back to spend time and sell the program from an alumni perspective.
Past that, Iowa's a program that's known for having many program alums come back and train in Iowa City during their pro off-seasons. Two examples are Jay Niemman's sons: linebackers Ben Niemann (Arizona Cardinals) and Nick Niemann (Los Angeles Chargers).
There's value in taking recruits through the facility and, on any day, they can see current NFL players back in the football facility. It's a major selling point that not only do players get developed for the NFL but they trust the coaches enough to come back after they're pros.
"It speaks volumes to our strength staff and the way that these guys were prepared and developed here," Niemann said. "If they weren't getting that kind of quality, hands-on work with the strength staff then they wouldn't come back. I think as you examine many other programs across the country, if you ask them whether their NFL guys come back to train or if they go somewhere else, I think a lot of them will tell you that there aren't many of them around. But we always seem to have a good group here each and every summer."
Where does Iowa sit in new landscape?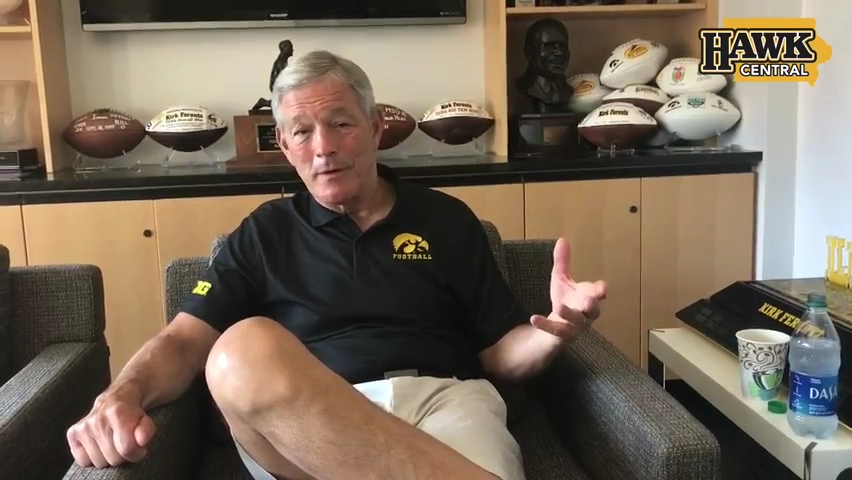 What is Iowa football's NIL approach? Kirk Ferentz answers
In an interview with the Register's Chad Leistikow, Ferentz outlined the general framework of how he sees players being paid.
Chad Leistikow, Hawk Central
Niemann said something while speaking of NCAA conference realignment that is also very relevant to recruiting:
"You can be on the right track but if you're standing still, you're going to get ran over. So you got to be moving forward and be forward in your thinking."
Related: USC and UCLA to the Big Ten is official. What does their move mean for Iowa athletics?
Now perhaps more than ever, there's more pressure on college football coaches to be forward thinkers, whether that's navigating NIL or managing the transfer portal. Where does Iowa land on these topics? Ferentz outlined his NIL and transfer portal stance in a June interview with Hawk Central, but otherwise Niemann emphasized the importance of controlling what you can.
So far this year, it's yielding positive results.
More: Leistikow: In-depth with Iowa football's Kirk Ferentz on his future, his son's offense and his advisory board
"Try not to get frustrated by those things that we you know are out of our hands," Niemann said. "Focus on the things that we can do, which one is preparing the team that we have on campus to the very best that we can then continue to do a high quality job of recruiting all the young men that are out there in these next couple of classes.
"With regards to the portal and the NFL stuff, you know, some of that is still taking shape, particularly the NIL stuff. I do think you're gonna see some information come out from the university before too long about what the University of Iowa's plan is with that. And then we'll all have a little bit better feel for how we're going to move forward at that point."
Kennington Lloyd Smith III covers Iowa Hawkeyes football and men's basketball for the Des Moines Register. You can connect with Kennington on Twitter @SkinnyKenny_ or email him at ksmith@gannett.com.