Leistikow: In-depth with Iowa football's Kirk Ferentz on his future, his son's offense and his advisory board
---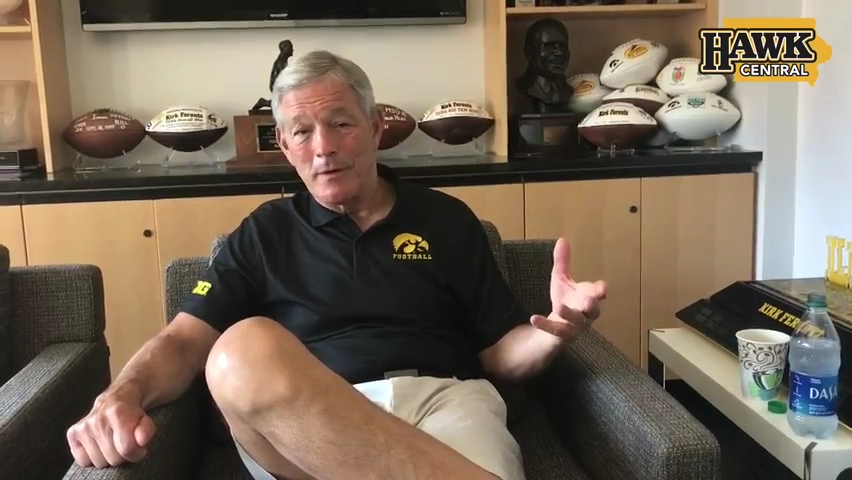 What is Iowa football's NIL approach? Kirk Ferentz answers
In an interview with the Register's Chad Leistikow, Ferentz outlined the general framework of how he sees players being paid.
Chad Leistikow, Hawk Central
IOWA CITY — Running is no longer in the regular exercise repertoire for Kirk Ferentz. He's come to the realization that he's a walker now.
"I've got a couple routes of choice," he says with a smirk.
Probably a smart move that the state's most recognizable figure doesn't give away too many secrets of elusive solitude.
No matter the time of year, someone is always asking something of Ferentz. Including us in the media. That's not something he complains about; it's the job of a high-profile, hands-on CEO like Ferentz. There's always another task to tackle, another signature to write on a football — as evidenced by the jumbled pile of black and metallic gold Sharpies on a table inside the entry area to Ferentz's office at the Hansen Football Performance Center.
Figure out Iowa's place in NIL.
Show leadership in addressing the program's past racial inequities.
And, by golly, fix the offense!
Ferentz approaches every major agenda item on his plate like he always has: With patience — some critics might call it stubbornness — and evaluation over long periods of time.
That's where the walks come in. In a profession that doesn't allow for much down time, Ferentz's walks provide a built-in window for big-picture reflection.
"I'm starting to enjoy walks," Ferentz concedes. "Sometimes I'll make phone calls on walks. Other times, I'll just actually think — something nobody does anymore."
More: Iowa football announces kickoff times for five games, including Iowa State rivalry matchup
Ferentz's fitness is still excellent, just a few weeks shy of his 67th birthday on Aug. 1. He still applies lessons from a book he read long ago called "Younger Next Year" to keep him feeling spry. The walking instead of running may indicate he's lost a step physically. But metaphorically, Ferentz charges at full speed into his 24th season as Iowa's head football coach … and with the wind at his back.
His Hawkeyes have momentum from a successful 2021 that saw them rise to No. 2 in the national polls and earn a 10-win regular season and Big Ten West Division championship. He's also armed with a rich contract extension that would have him coaching through the 2029 season, when he would be 74.
In this 45-minute interview with the Des Moines Register, Ferentz talks specifics on a number of simmering summer topics … all of them couched, naturally, with some big-picture context.
Topic 1: Many messages behind the new contract.
On Dec. 31, the day before Iowa's most recent football game (a 20-17 Citrus Bowl loss to Kentucky), Ferentz signed what is likely his final contract extension. A $7 million annual salary over eight years before bonuses certainly emphasizes that Ferentz isn't going anywhere and sends a message that has resonated on the recruiting trail. The Hawkeyes have been on a roll — despite lacking a formalized collective surrounding name, image and likeness (NIL) — and find themselves in the final two (with Alabama) for prized five-star offensive tackle Kadyn Proctor of Southeast Polk High School.
Ferentz hasn't said much publicly about his new deal (which didn't surface until mid-January). But in this interview, he expands on his multi-tiered thinking behind negotiating and signing it.
Obviously, it offers validation from athletics director Gary Barta that he is the right person to lead the program after the racial inequities that were highlighted by a June 2020 outcry of dozens of former players.
Mainly, though, Ferentz says, "I just wanted to send a message to anybody that cared that this program has been stable and will continue to be stable.
"And then the other key component to me was making sure that we could … have the kind of staffing we need to have internally to be successful and competitive."
Tucked inside the contract was a windfall for his 10 assistant coaches, bringing their annual salary pool to $7 million. As he approaches a yet-to-be-determined finish line at Iowa, Ferentz desires to be surrounded by the coaches he trusts the most. With his final signature on a coaching contract, he wants to make it difficult for them to be lured away.
So now Ferentz, who has the fourth-most wins of any Big Ten Conference coach in history, has the clearance and the long-term backing to climb all the way to No. 1.
At 178 wins over 23 years at Iowa, Ferentz finds himself just 16 shy of tying Michigan's Bo Schembechler (194) for No. 3. That could reasonably be achieved sometime in the next 18 months.
He's just 27 wins shy of Ohio State's Woody Hayes (205) at No. 2. With his recent pace, Ferentz could get there in three years.
Ferentz is 54 wins shy of No. 1 Amos Alonzo Stagg (232), who spent 37 seasons at Chicago (1896-1932) after being hired away from Yale for the then-unthinkable price tag of $6,000.
"And they thought he was getting paid too much," Ferentz quips. "So, it's not a new phenomenon."
Schembechler, Hayes and Stagg were great examples of longevity, but none had to deal with the NIL era as Ferentz does. A separate column (which appeared in the June 19 Sunday Register) pulled out Ferentz's detailed thoughts about college football being in a "scary" place. In a nutshell, Ferentz feels that without the college game adopting an NFL-style model (such as salary caps and player contracts), the gap will only widen between the top 10-15 programs and everyone else.
Everyone else, in this case, includes Iowa. Ohio State coach Ryan Day recently said it would take $2 million in NIL money to secure a premier quarterback and $1 million for offensive tackles and edge rushers. Ferentz, on the flip side, thinks NIL collective dollars should go to existing roster players and not used as a recruiting lure. He also approves the model of each player receiving the same amount of money.
Related: Kirk Ferentz sees college football 'in a really scary place,' outlines Iowa's NIL approach
A united locker room is essential to Iowa's plan to combat the big-money programs; always has been.
Considering Iowa plays at Ohio State this season on Oct. 22 — the programs' first meeting since the resounding 55-24 Hawkeye win in 2017 — Ferentz uses last year's Buckeyes as an example of the impossibility of keeping up star-for-star, dollar-for-dollar. With quarterback C.J. Stroud and stud receivers Garrett Wilson (No. 10 overall NFL Draft pick), Chris Olave (No. 11 overall) and Jaxon Smith-Njigba, the Buckeyes threw for 573 yards and six touchdowns in the Rose Bowl win against Utah.
"I've heard NFL people say the best receiver (Smith-Njigba) is coming back. So potentially that was three first-rounders out there with a great quarterback, and we aren't in that neighborhood," Ferentz says. "That's not realistic, based on the last 20 years … to think we're going to be in that neighborhood.
"They're doing what's best for them, and we're trying to do what's best for us. The ultimate objective is to try to win and find the best way to win."
Topic 2: The under-fire offense and the loss of Charlie Jones.
After a forgettable 42-3 loss to Michigan in the Big Ten title game, a three-interception game from Spencer Petras in the Citrus Bowl and an offense that rated 121st nationally (out of 130 FBS teams), there were plenty of folks with the opinion that Brian Ferentz (his oldest son) should be fired as offensive coordinator.
Kirk Ferentz, obviously, didn't share that opinion.
In fact, he says, "I've never had a thought of firing any of our coordinators in my time here."
That's quite a statement for a head coach in 23-plus years at one program; just think how often coordinators come and go in the NFL. Ferentz's short list of leaders on offense/defense at Iowa includes Ken O'Keefe (1999-2011), Greg Davis (2012-16) and Brian Ferentz (2017-present) on offense; and Norm Parker (1999-2011) and Phil Parker (2012-present) on defense.
Stability? Stubbornness?
"Everybody was barking about Greg, too," Kirk Ferentz says. "A reminder that Greg was the coordinator in '15 here, and we had a pretty good football team. That's how I look at it. Big-picture, rather than spontaneous."
Where does such patience come from?
In part, from none other than Bill Belichick.
The six-time Super Bowl-winning NFL head coach for the New England Patriots, as most know, hired Ferentz as offensive line coach when he was leading the Cleveland Browns in the mid-1990s. Belichick's coaching style left an impression on a late-30s Kirk Ferentz.
"He's maybe as non-reactionary a person as I've ever been around in my life," Ferentz says. "And the other thing I always appreciated about him, especially being a line coach, he understood that there are a lot of moving parts in a football game, in a football team and a football season.
"And I'm not saying I'm even anywhere in his neighborhood. But you learn from the people you work with."
Bottom line with the Iowa offense in 2021: In the head coach's eyes, it wasn't the coordinator's fault.
The abrupt, late-May loss of Charlie Jones doesn't help the 2022 battle. The return specialist of the year in the Big Ten wanted a chance to showcase his wide-receiver skills elsewhere, and he'll do that as a sixth-year senior at division-rival Purdue. Jones was a childhood teammate with Boilermakers quarterback Aidan O'Connell, so the move makes some sense.
"I'm not mad at him. I don't think he's mad at us," Ferentz says. "He felt like it was a better opportunity. He's following his heart, I guess."
Related: Where does Iowa's receiver room stand after Charlie Jones' departure? Let's take a look.
Ferentz really likes his current players, and he's not just saying that. He really likes his staff, too. He's happy to report "a lot healthier football team" showed up for summer workouts earlier this month after a rash of injuries sidelined a lot of regulars in the spring.
And now comes the task of replacing Jones, an opportunity that Ferentz again outlines with a big-picture mentality.
"If he sprained his ankle before our first game, he wasn't going to be out there," Ferentz says. "If you want to look at the positive side … we haven't had a lot of guys leave. Hopefully that's a reflection of the climate here and how guys feel about being in the program."
Kirk Ferentz: 'Not realistic' for Iowa to recruit in Ohio State's neighborhood
In an interview with Chad Leistikow, the Hawkeyes' head coach explains his patient, CEO-style approach.
Chad Leistikow, Hawk Central
Topic 3: Ferentz's (former) advisory committee and next steps.
In January, Ferentz's decision to dissolve a personal advisory committee of former players "in its current form" — key wording there — became a polarizing news story. The outgoing chairman of the group, David Porter, spoke out about the poor optics of the decision and concluded that Ferentz should be fired.
A subsequent letter to Iowa football parents helped Ferentz smooth over some negative headlines. He wrote on Jan. 17 that the group had been a helpful tool for him to highlight racially charged issues within the program and stated, "The group is ongoing, and I am in the process of inviting new members to join the group."
But five months after writing that letter, Ferentz has yet to assemble a new group. In fact, he now says there is no plan to continue a formally organized personal advisory group.
Ferentz cited a conversation with former Hawkeye fullback Lew Montgomery, who in February was tapped on an interim basis to replace Broderick Binns (who took a private-sector position) in leading Iowa athletics' Diversity, Equity and Inclusion (DEI) efforts, as impacting his opinion.
"His encouragement was to work internally with the DEI people," Ferentz says, "… and make sure everything we're doing is consistent and on board with university policy, not just athletics."
Ferentz says Liz Tovar, the university's highly respected executive officer for DEI efforts, will join Montgomery and/or his replacement to work with the football program and keep it accountable. Ferentz had originally suggested assembling a younger core of former players to advise him on racial-bias topics, an area that he admitted two years ago was a personal "blind spot." But he instead envisions bringing ex-players (chosen by him) to periodically interact with the 100-plus player roster (as a substitute for the committee) to perform regular "check-ups."
"Have them come in during fall camp, during spring ball, to spend a day or two if they have that time," Ferentz says, "(to) kind of be eyes and ears. Get around, talk to people (and) be a sounding board that way."
It would seem to be a reasonable and simple step to maintain an organized advisory group, to make sure tangible positive momentum that has been built over the past two years continues. But Ferentz is confident in the existing culture, to the point where he's clearly more comfortable operating without an advisory group. Thus, he's willing to face any subsequent backlash that comes his way.
In this interview, Ferentz doubled down on a comment that was shared with him by former Hawkeye and Indianapolis Colts/Detroit Lions head coach Jim Caldwell: That his current players will tell him what needs fixing.
"I don't see it being an organized group right now. The committee served its purpose, in my opinion," Ferentz says. "They were a great sounding board. But I think we're in a pretty healthy thing right now."
Topic 4: Another walk story leads to rivalry talk.
On the morning of the Iowa-Nebraska game in Lincoln, Ferentz was restless. He went for a solo stroll from the team hotel. Ferentz's top two quarterbacks had flu symptoms all week, and the Hawkeyes needed a win in their regular-season finale against a heated rival — plus help from Minnesota — to win the Big Ten West.
Sure, he was a little stressed.
Along the way, Ferentz bumped into a couple of Iowa fans who wanted (and got) a photo with the head coach. Then, as Ferentz was nearing the hotel, he got that "oh, boy" feeling. A guy dressed head-to-toe in Husker red was squarely in his path.
"He's kind of eyeballing me and I'm like, 'OK.' So, anyway, stopped, took a picture with him," Ferentz says. "Right thing to do, I'm telling myself.
"Then he says, 'That wave you guys do is really awesome. I sent a $10,000 check last year to your … Children's Hospital.'
"So, it's a reminder that we're all competing. But there are good people on both sides of the fence."
More: Leistikow: Iowa's Tyler Linderbaum took $0 in NIL money. He gave $30K to the UI Children's Hospital
Now that's a good walk story; that "The Wave" at the end of the first quarter of Hawkeye home games to ailing kids inside the UI Stead Family Children's Hospital moved a Husker fan to contribute to a rival school.
"So," Ferentz quips, "I've met one (Nebraska fan) that I like."
On that note, rivalries are a major topic this summer. This is likely the last year that will feature East and West divisions in the Big Ten, with 2023 becoming division-less football.
"I'm taking a wild guess that the new TV contract and this discussion are linked," Ferentz says, again with a wry smile.
True, the Big Ten is reportedly on the doorstep of announcing a new TV-rights deal that could pay Big Ten schools a collective $1 billion annually, per The Athletic. Division-less football might mean that schools are assigned either two or three protected annual rivalries. With two and nine-game conference schedules, teams would cycle through every opponent seven times over an 11-year period; with three, teams would cycle through every opponent three times over a five-year period.
So, if Ferentz could pick just two protected rivals, who would they be?
Minnesota and Wisconsin? Minnesota and Nebraska? Nebraska and Wisconsin? Should Illinois or Northwestern be considered?
Sorry to say, Ferentz wasn't biting.
"Even if it's three, then that No. 4 team is going to be mad that we didn't say they're one of our three," Ferentz says. "All this does is create people being hostile. So, I'm just going to wait and see how it (unfolds).
"That's exactly why I don't go to league meetings anymore. The suspense is not killing me."
Podcast: A busy June in Iowa football recruiting and the top five games of the 2022 season
To emphasize his disinterest in the topic, Ferentz adds this.
"I've got five kids. So, who are my four favorites?" he says with a laugh. "I'm not answering that question. I guarantee it."
The topic, though, coupled with the emergence of NIL craziness becomes a fitting way to finish the interview. While other coaches — including Iowa basketball assistant Kirk Speraw — are exiting the rat race at a typical retirement age with concerns over the direction of college sports, Ferentz is equal parts enamored and motivated with how he can lead Hawkeye football into a new and uncertain world … behind a familiar approach.
"I enjoy this," he says. "Because of NIL, because of (the) transfer portal, because of whatever the topic may be — schedule changes — there's constantly something to stimulate you all the time. There's always another challenge."
Hawkeyes columnist Chad Leistikow has covered sports for 27 years with The Des Moines Register, USA TODAY and Iowa City Press-Citizen. Follow @ChadLeistikow on Twitter.