Kirk Ferentz sees college football 'in a really scary place,' outlines Iowa's NIL approach
---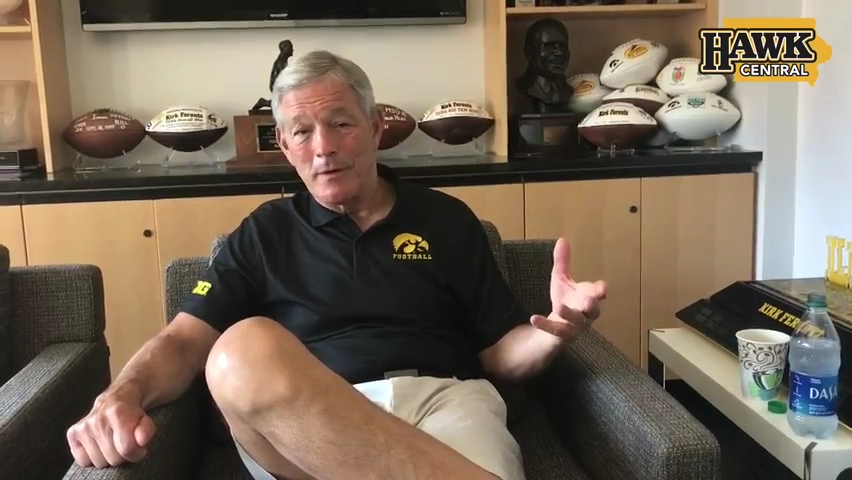 What is Iowa football's NIL approach? Kirk Ferentz answers
In an interview with the Register's Chad Leistikow, Ferentz outlined the general framework of how he sees players being paid.
Chad Leistikow, Hawk Central
IOWA CITY — Kirk Ferentz likes to say in interviews that he doesn't pay attention to the outside noise, but truthfully the 24th-year Iowa football coach doesn't miss much.
Recent comments by Ohio State head coach Ryan Day certainly caught Ferentz's attention. As reported by Cleveland.com, Day told a group of Buckeye boosters that $13 million of cash for name, image and likeness deals would be needed to maintain the current roster. A few days later, Penn State coach James Franklin aggressively suggested that the Nittany Lions needed to keep pace with their rivals, saying, "It needs to be now. It needs to be yesterday."
You won't ever catch Ferentz publicly howling that Iowa donors need to dig deeper into their pockets. But Ferentz did let his opinions fly on the NIL topic during a sit-down interview with the Des Moines Register on Friday. (A column on the full scope of the wide-ranging conversation will publish in the coming week.)
"Next time I see those guys," Ferentz mused of Day and Franklin, "I'll have to ask them how they came up with that figure."
Actually, Day did mention to those Buckeye backers that the market value for premier quarterbacks was $2 million in NIL deals; that top offensive tackles and pass rushers are commanding $1 million. While listening to satellite radio in his car, Ferentz has heard pundits claim that this type of market is unsustainable.
But Ferentz believes that it is sustainable … to a select few.
"I think what isn't sustainable is the fact that we're going to try to move forward, really, without any structure, any framework," Ferentz said. "And I think I know where this is going to go, and that concerns me. It's just not good."
Where's it going, in Ferentz's mind?
Right on brand, Ferentz brought up the 1981 season — his first as an Iowa assistant coach under Hayden Fry — and where college football was then.
"The first thing we're going to see is … that big gap (after) top 10, 12, 15," Ferentz said. "I don't know who's going to ante up. That's the question, 'How many people can ante up consistently,' year after year after year, at the level some of these coaches are referencing. And there are people that can do it.
"I just go back to 1981 when we went to the Rose Bowl, as great as that was, it was historic (because) for the first time in 13 years, somebody other than A or B (Michigan or Ohio State) went to the Rose Bowl. To me, that's good for college sports. It was good for the Big Ten. And I think all but two of the original members have gone since."
As usual, Ferentz doesn't miss much. From Jan. 1, 1982, to Jan. 1, 2001, nine Big Ten teams — Iowa, Illinois, Michigan, Michigan State, Northwestern, Ohio State, Penn State, Purdue and Wisconsin — played in Pasadena.
"We're in a really scary place. I think that's obvious to everybody," Ferentz said. "If you look at college football right now, just from a fan standpoint and watching the news, it's like a reality TV show at this point.
"If we could go back in time, 15-20 years ago, even 10 years ago, who would have envisioned prominent coaches bickering nationally in a public forum? I'm not sure that's good for our game, but I understand why it's going on. Totally understand it."
Of course, Ferentz was referring to Alabama's Nick Saban publicly accusing Texas A&M of buying players, to which Aggies coach Jimbo Fisher called a news conference and referred to Saban's comments as "despicable."
Ferentz actually believes that there's a simple solution, in theory, to the chaos: To create a college football system that operates more like the NFL, which has salary caps and detailed player contracts. But in reality, he sees college football operating more like Major League Baseball, where the big-spending teams like the New York Yankees or Los Angeles Dodgers usually end up on top.
"I don't think it'd be that hard to fix, but it is that hard to fix because I don't know who's going to fix it," Ferentz said. "And I have no idea what the legalities are. Because that's how this whole transfer portal opened up."
College football doesn't have a commissioner. It has a largely toothless NCAA that was so slow to act on NIL that it has created a rapidly changing landscape with few, if any, rules … or realistic solutions in grasp.
"I think the NFL is so far ahead of where we're at. And that's the other thing, they have enforcement," Ferentz said. "We don't have that in college sports. And I find it laughable, quite frankly.
"Name the last time (the NCAA) really did something of significance … in college football. We all know what's going on."
Yet Ferentz is charged with leading the Hawkeyes through this new world. He has a freshly signed contract that extends his term at Iowa through the 2029 season — when he would be 74 years old — at $7 million per season. Ferentz confirmed in the Register interview that he sees evenly distributed money via an in-the-works NIL collective going to current roster, not to new recruits. (That would not preclude free-market NIL deals for any player, including an incoming prospect.)
Ferentz realizes that could put Iowa at a recruiting disadvantage. But from his vantage point, that's how it has always been for the Hawkeyes. They have never kept up, dollar for dollar, with the Alabamas and Ohio States of the world.
"We're not recruiting against some of the schools that are being named. And we're OK with that," Ferentzs said. "We've been OK with that. And we'll live in our world, in our niche. I can only imagine what it's like in basketball, only because it's a smaller pool of players. And it's like the NBA, if you get the right two guys, you're in a whole different category.
"I think we have a really well-thought-out plan, but we're still finalizing some details. To give you an NFL analogy, I see us still being a team that's built through recruiting and trying to raise our own guys."
Hawkeyes columnist Chad Leistikow has covered sports for 27 years with The Des Moines Register, USA TODAY and Iowa City Press-Citizen. Follow @ChadLeistikow on Twitter.